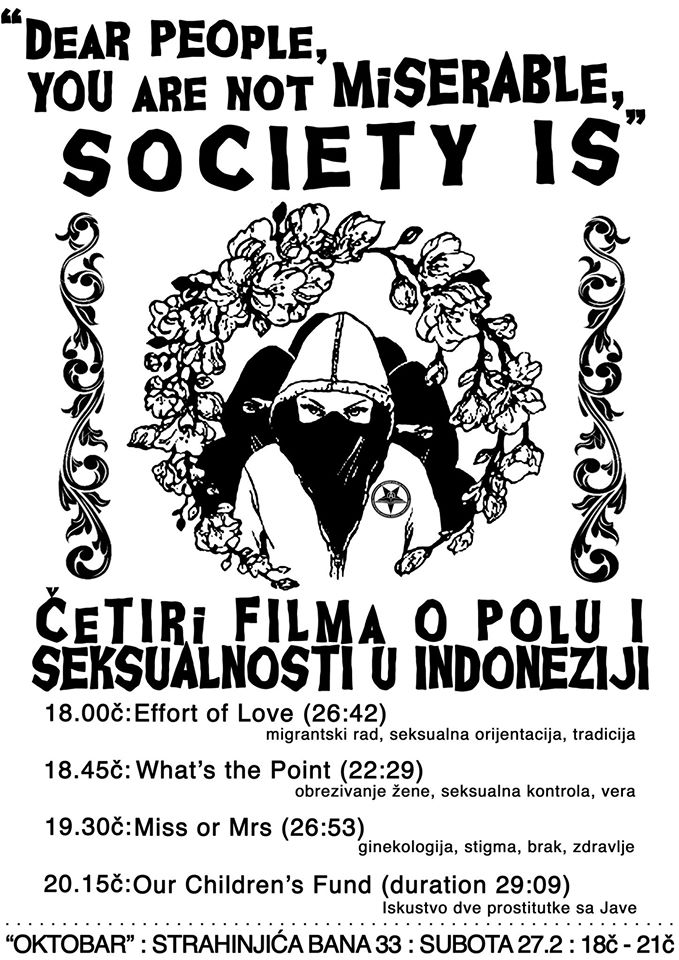 **Scroll down for English
"Dear people, you are not miserable, society is."
Gledanje filmova, sto pun publikacija (Burevesničkog izdavaštva) i potlač (svi bi trebalo da donesu grickalice, ili nešto od hrane)
Niz dokumentaraca, koji otvaraju oči i govore o tabu temama i problemima koje mnoge žene proživljavaju u najmnogoljudnijoj islamskoj državi, Indoneziji.
(all films with English subtitles)
• 18:00h – Ljubavne poteškoće (trajanje- 26:42 minuta)
Ruwati i Raintini su dve žene, migrantkinje, koje rade kao kućne pomoćnice u Hong Kongu. One su dobro plaćene za svoj posao i njime izdržavaju svoju porodicu koja živi na Javi. Postmatrano sa strane, vidimo ih kao sposobne i vešte žene, ali one se suočavaju sa mnogim dilemama u svojim ljubavnim životima, kao na primer, seksualnom orijentacijom i ljubavnim verovanjima. U "Ljubavnim poteškoćama", Ruwati razmišlja o povratku u svoju zemlju kako bi se udala, ali saznaje da boluje od raka grlića materice. Lečenje podrazumeva interne preglede i poduhvate koji mogu da naruše njeno devičanstvo. Dok se Riatini, zaljubljuje se u svoju koleginicu, koja takođe radi kao migrantkinja u Hong Kongu. Između osećaja krivice i sreće, da li će obe moći da odluče sta je najvažnije u ljubavi i životu?
• 18:45h- Koja je svrha? (Trajanje- 22:29 minuta)
Ovaj film pruža bolji uvid u običaje obrezivanja žena u Indoneziji. Iako se u Indoneziji ne uklanja čitavi deo klitorisa i usmine ženskog polnog organa, ovaj običaj je i dalje naširoko prihvaćen. "Cilj" je "očistiti i zaštititi" žene od zlog duha koji ih navodi na promiskuitetno ponašanje. Čak i danas mnogi ljudi nisu svesni rizika ovog poduhvata. Ovaj film prikazuje haotična verovanja i kontekst koji stoji iza običaja obrezivanja žena.
• 19:30h- Gospodin ili gospođa? (Trajanje- 26:53 minuta)
U Džakarti, glavnom gradu Indonezije, žene imaju veliki pristup popularnim magazinima, odeći ili kozmetici. Ali naći ginekologa koji ne osuđuje nije laka stvar. U ovom filmu se traga za slobognim i neudatim ženama koje mogu da dobiju dobar zdravstveni tretman. Kada neudata žena želi da uradi test koji bi pokazao da li boluje od raka grlića materice, ne dobija dozvolu za to od bolnice, već samo moralnu lekciju. S druge strane, kada žena želi da ode u privatnu, skupu bolnicu,, sve se odvija u najboljem redu. Ovaj film ukazuje na važnost zdravstvenih prava, kao i na moralna i religijska osuđivanja od strane društva, koja proističu kao posledica klasnog sistema u društvu u kojem ove žene žive.
• 20:15h- Fond za našu decu (Trajanje- 29:09 minuta)
Kroz ovaj film upoznaćemo se sa životima seksualnih radnica na Istočnoj Javi. Nur i Mira su žene koje sakupljaju kamenje iz reke i prodaju ih tokom dana. Međutim, njihov prihod ne može da ispuni svakodnevne životne potrebe. Ne bi li uspele da zarade više, ove žene rade noću kao seksualne radnice na kineskom groblju, gde uspeju da zarade oko 10 000 rupija, (što je približno jedan dolar) za svaku seksualnu uslugu.
**************************************
Infoshop Furija presents:
"Dear people, you're not miserable. Society is."
Movie screening, zine table by Burevesnik, and potlach (everyone bring snacks)
A series of eye-opening documentary tackling taboo issues that many women are facing in the world most populous Islamic country, Indonesia.
18:00 – Effort of Love (duration 26:42)
Ruwati and Riantini are two female migrant workers who work as domestic helpers in Hong Kong. They are well paid and the bread winner for the family in Java. From the outside we see them as accomplished women, but they are facing dilemmas in their love life due to their sexual orientation and belief. In Effort of Love Ruwati is about to go back to her country to get married but just found out that she has a cervical tumor. The treatment requires internal examination that can damage her virginity. While Riatini is a divorce who fell in love with her fellow female migrant worker in Hong Kong. In the midst of guilt and happiness, will both of them able to decide what is important in love and life?
18:45 – What's the Point (duration 22:29)
This movie gives a closer look at the practice of female circumcision practice in Indonesia. Although female circumcision in Indonesia doesn't remove the whole part of women's clitoris and labia, but this practice is still widely accepted. The reason is to 'clean and prevent' the girl from evil spirit that leads her to become promiscuous. Even today many people still not aware the risk of the practice. This movie shows the chaotic beliefs and context behind female circumcision.
19:30.- Miss or Mrs (duration 26:53)
In Jakarta (capital of Indonesia) women have more access toward glossy magazines, clothing, or latest cosmetics. But finding a non-judgmental gynecologist/ob-gyn is not an easy matter. This movie follows the quest of single and un-married women in getting the proper treatment for their reproductive health. Most get unfriendly gestures and judgmental attitude from the hospital nurses and doctors. When an un-married women want to get cervical cancer test, she get disapproval from the hospital, and get moral lecture instead. On the other side, when women go to private expensive hospital, everything went well. This movie question the importance of health right versus moral and religious judgment, as well class system in the society.
20:15 – Our Children's Fund (duration 29:09)
This movie we will walk through the life of sex workers in East Java. Nur and Mira are women who work hammering and selling stones from the river during the day. However their income couldn't fit their basic daily expenses. To fulfill their needs, at night they work in a Chinese cemetery as sex worker with approximately Rp. 10.000 (around $1 USD) for each sex service.

Mesto/place: Oktobar, Strahinjća Bana 33