19č Na putu kroz Srbiju (prezentacija kolektiva No Border)
Strožije granične kontrole i migracijske politike, kao i sve izraženije rasistička primena režima državljanstva ne zaustavljaju kretanje ljudi – samo ga čine opasnijim, smrtonosnijim i profitabilnijim za one koji su uključeni u posao ograničavanja slobode kretanja i u tržište ilegalizovanog prelaženja granica. Ali ljudi ne prestaju da se kreću i sopstvenim telima se odupiru nametnutim ograničenjima. Širom Evrope je došlo do porasta broja samoorganizovanih protesta migranata, štrajkova glađu, nemira u prihvatnim centrima, akcija protiv deportacija i svakodnevnih masovnih primera neposlušnosti protiv prepreka kretanju. U ovoj kratkoj prezentaciji, sumiraćemo situaciju u kojoj se nalaze migranti u Srbiji i predstaviti našu analizu kako bismo podstakli diskusiju o taktikama solidarnosti i otpora.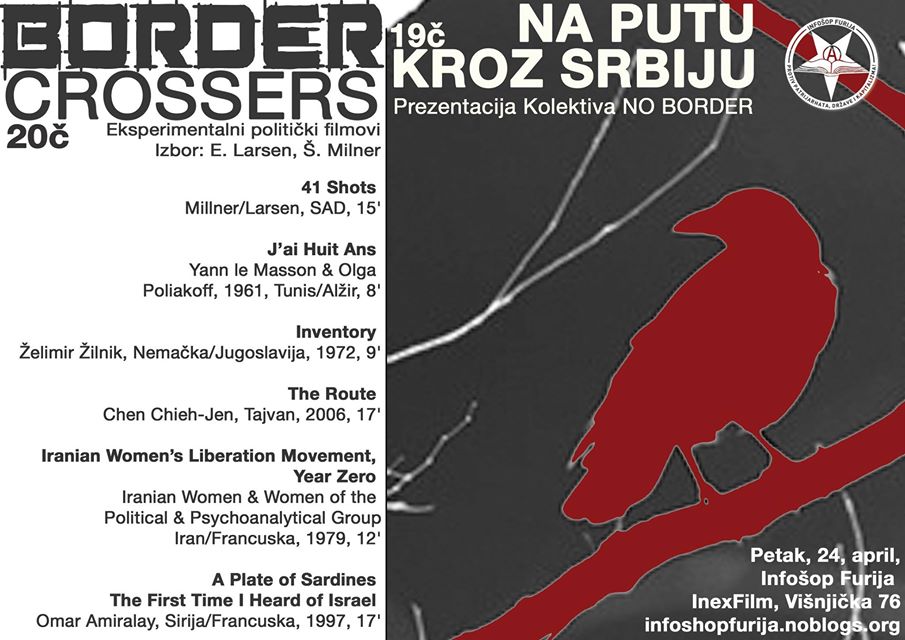 20č Border-Crossers: Eksperimentalni politički filmovi u izboru Ernesta Larsena i Šeri Milner
Ovi filmovi razmatraju nestalni status onih koji su isključeni od strane građanskog društva: nezaposleni, nezaposlivi, prekarni radnici, izbeglice, migranti i svi oni obespravljeni koji svakondevno moraju da prelaze granice kako bi došli do posla. Prepreke mogu biti fizičke, mentalne, ekonomske, lingvističke ili rasne – i one ni na koji način nisu skorašnji fenomen. Često zaglavljeni na granicama, isključeni su zapravo bez države, lišeni građanskih prava, često u večitom limbu, pod povećanom opasnošću napada od strane nacionalističkih siledžija i fašista, retko u mogućnosti da rade legalno, lake mete za policiju. Iako često prožet ironijom, ovaj program čini jasnim da su emocije često veoma pojačane kada je reč o nametanju granica, stalnoj opasnosti od policijske represije, zvanične indiferentnosti, ili državnog nasilja.
"Inventory" (Želimir Žilnik, Nemačka, 1972, 9 min.)
Život imigranata sa Balkana i Bliskog istoka u Nemačkoj početkom 1970-ih.
"The Route" (Chen Chieh-Jen, Tajvan, 2006, 17 min.)
Direktna akcija lučkih radnika sa Tajvana kao čin solidarnosti sa radnicima u Liverpulu.
"Year Zero" (Iranian Women & Women of the Political & Psychoanalytical Group, Iran/Francuska, 1979, 12 min.)
Film prikazuje feminističke proteste u Iranu u martu 1979. godine, odmah nakon pobede Homeinija, demonstracije usmerene protiv Šaha jednako kao i protiv novog teokratskog režima.
"41 Shots" (Millner/Larsen, SAD, 15 min.)
"J'ai Huit Ans" (Yann le Masson & Olga Poliakoff, 1961, Tunis/Alžir, 8 min.)
Kratki film snimljen u izbegličkim kampovima tokom anti-kolonijalnog rata u Alžiru. Film je bio zabranjen u Francuskoj deset godina, a reditelj Rene Vautier osuđen na zatvorsku kaznu.
"A Plate of Sardines – or – The First Time I Heard of Israel" (Omar Amiralay, Sirija/Francuska, 1997, 17 min.)
Film prikazuje život između graničnih ratova i bodljikave žice.
* Sherry Millner and Ernie Larsen are anarchist artists who produce STATE OF EMERGENCY, an interventionist video project, in collaboration with more than 15 artists. They began working together in the mid-seventies with a performance about the Weather Underground and then made the two-screen situationist Super-8 Disaster (1976), recently restored on DVD. They produced two 16 mm anti-documentaries on the politics of crime, and then a series of satiric semi-autobiographical videos focusing on the authoritarian structures indispensable to capital. Millner's multimedia installations have explored domestic space as a battleground, first with the theory and practice of camouflage as the controlling aesthetic and then re – creating the designs and plans in U.S. army manuals on how to boobytrap the home. Larsen is also a novelist (Not a Through Street) and a media critic. Their conceptual video, 41 Shots, based on the police murder of immigrant street peddler, Amadou Diallo, examines the implicitly racist 'broken windows' theory of criminology. Their new video essay Rock the Cradle explores the fierce challenge posed by the Greek uprising of December '08-January '09 to the rule of global capital and the state, while relocating resonant aspects of the anarchist pasts of Barcelona and the Paris Commune within present-day struggles.
*****************
AFTERPARTY
Borderless Jams with S Timov
Petak, 24, april, 19č